Risks and benefits associated with Kombucha Tea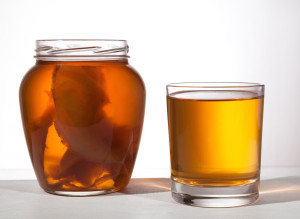 Synopsis and Opinion
by
Prof. Anthony B. James MSc., DNM(C), ND(T), MD(AM), DOM(Acu), DPHC(h.c.), RAAP, UTTS, Clinical Director SomaVeda College of Natural Medicine (SCNM)
I am concerned about the possible risk and benefits associated with Kombucha Tea. Increasingly we have seen in the past year an increasing number of students in our SomaVeda® Thai Yoga Practitioner Certification as well as other SCNM College programs bringing or using Kombucha. The use varies from commercially branded products to homebrew. Is Kombucha a suitable natural remedy for Thai Yoga/ Traditional Thai Massage and other holistic healing practitioners? The second question is whether or not I feel, as a Natural Medicine Practitioner and Dean of the SomaVeda College of Natural Medicine whether we should use it in our programs. I decided to do a bit of investigation. I found many references, some more authoritative than others, as there is much hype and myth regarding Kombucha, usage, and health claims… Fortunately, there is also some research. Especially as the use of Kombucha-based products continues to grow. My final opinion after all of this is found at the end of this article.
Want to learn Natural Medicine, Ayurveda, Yoga Therapy, and more for real?
Learn more about SomaVeda® Thai Yoga Therapy Practitioner Certification Programs.
Kombucha tea can be dangerous to your health
Michele R. Berman, MD | Potpourri | July 29, 2010
Celebrities are powerful role models and are essential to consumers concerned with their health because of the perception that famous people have access to the best health practices and medical care. The public looks to celebrities for hope and inspiration as they struggle with their health issues and fight disease. However, the health practices that celebrities promote are often questionable and misleading.
One popular folk remedy, kombucha tea, is part of the dietary regimens of multiple Hollywood actresses and entertainers, including Gwyneth Paltrow, Kirsten Dunst, Lindsay Lohan, Madonna, Halle Berry, Meg Ryan, Anna Paquin, Cher, Barbara Streisand, Alec Baldwin, and Susan Sarandon. The claims for its medicinal value are as far-reaching as they are implausible and include aging, anorexia, arthritis, atherosclerosis, cancer, constipation, diabetes, gallbladder disease, gout, hemorrhoids, hair growth and color restoration, headache, hypertension, HIV, immune boosting, indigestion, increased vitality, treatment of alcohol and coffee addictions, and wrinkle reduction.
Kombucha is a form of black tea and sugar fermented using a combination of bacterial and fungal cultures that form a "mushroom" on top of the fermentation vessel. It originated in China thousands of years ago, eventually spreading to Europe, and is today becoming increasingly popular, through celebrity use and endorsement, in the U.S. and the U.K. Many homebrew recipes for making Kombucha may be found on the Internet,. Still, it is also manufactured and sold by companies such as Synergy Drinks.
We conducted a literature review of Kombucha at www.pubmed.gov and found 40 articles on kombucha tea. Many of these studies originated in China or India and tested the effects of kombucha tea on rats or mice; a few papers tested the impact on human cancer cells in vitro. Some beneficial results were seen, but one study concluded that "Comparable effects and mechanisms in humans remain uncertain, as do health safety issues, because serious health problems and fatalities have been reported and attributed to drinking kombucha."
Most reports of human consumption of kombucha tea are case reports of toxicity, in some cases, life-threatening. The greatest danger from Kombucha seems to arise in "home brew" versions that have become contaminated because of improper preparation or when Kombucha interacts with alcohol or prescription drugs.
Observed adverse effects of kombucha consumption include hepatitis, xerostomia, dizziness, nausea, vomiting, headache, shortness of breath, restless legs, abdominal pain, hypotension, and tachycardia. In most cases, patients fully recovered after discontinuing Kombucha and symptomatic treatment.  However, there are reports of severe and sometimes fatal cases of hepatic dysfunction and lactic acidosis.
In addition to oral ingestion, the skin application of Kombucha is also used as a topical analgesic. Such use has resulted in cutaneous anthrax infections from Kombucha stored in unhygienic conditions; such conditions make Kombucha preparations a potential medium for the growth of pathogenic microorganisms.
Because folk medicines, herbal remedies, and dietary supplements, including Kombucha tea, are not considered foods or drugs, they are not routinely evaluated by the U.S. Department of Agriculture or the U.S. Food and Drug Administration (FDA). According to the U.S. Centers for Disease Control and Prevention (CDC), drinking this tea in quantities typically consumed (approximately 4 oz daily) may not cause adverse effects in healthy persons; however, the potential health risks are unknown for those with preexisting health problems or those who drink excessive quantities of the tea.
Recently, Whole Foods removed kombucha drinks from its store shelves because they can contain alcohol as a product of the fermentation process. This fact was used to explain why actress Lindsay Lohan's alcohol-monitoring (SCRAM) bracelet was activated even though she asserted compliance with court orders not to drink alcoholic beverages.
Kombucha Tea Health Risks
•    Cancer Articles and Infographics
Dec 4, 2013
2868
Kombucha is the day's flavor when it comes to popular drinks, and it's easy to see why. Its slightly fermented tea has just a bit of carbonation, making it seem like a soda but without the massive amounts of sugar that many sodas have. Kombucha also has live cultures in it that are said to promote healthy digestion in people who regularly consume it.
Could there also be hidden Kombucha health risks of which people are unaware?
Did You Know That Kombucha Contains Alcohol?
To create the magical sweet and sour aftertaste of Kombucha, a combination of bacteria and yeast is allowed to ferment over naturally some time. This culture is then added to the tea and then bottled. What happens during the fermentation process? Alcohol is created! If allowed to continue fermenting over time, the alcohol level of the drink will increase. World Foods this year had to recall many of their Kombucha products because they believed the alcohol content of the tea had risen above the 0.5% legal threshold.
If you drink too much Kombucha, you could become legally drunk in some areas, especially those with a .05 legal limit. This alcohol can interfere with certain medications as well, especially painkillers.
Kombucha Also Contains Acid Compounds
Because Kombucha is acidic in nature, it creates a situation where the body is forced to expel the acids that you've consumed with this drink before expelling the other stored acids. Sometimes the human body struggles to release the byproducts that it creates through regular everyday use. This can result in lactic acid buildup and uric acid buildup, and in turn, these buildups can cause medical problems such as gout or lactic acidosis.
When consumed regularly, Kombucha can prevent the body from expelling those pent-up acids, causing severe health issues. One woman is known to have died from cardiac arrest because of the Kombucha she consumed. Others have suffered severe medical emergencies because of acidic levels in their bodies due to their consumption of Kombucha.
Molds Can Penetrate Kombucha Too
The nature of Kombucha is that it creates prime working conditions for mold development, especially molds like penicillium. For those allergic to penicillin-based drugs, Kombucha could potentially create a life-threatening allergic reaction if it has sat out long enough to develop mold. This is especially true for brews that have not been refrigerated. Though this is a low Kombucha health risk compared to the others, it is still a risk.
Chances are good that consuming Kombucha will not create a health problem for you. There are historical precedents set, however, that Kampuchea health risks do exist, especially for specific health groups. That's why it is essential to understand your current health needs and know if Kombucha may negatively interact with them.
Kombucha: Studies Show Risks Outweigh Benefits
Added by Nick Ng on July 28, 2014.
Saved under Health, Nick Ng, Research
Tags: Kombucha
Kombucha is a type of black or green tea from the plant Camellia sinensis that is fermented for about a week,  to which certain types of bacteria, fungi, and sugars are added. Proponents of kombucha tea claim the drink, created by certain types of fungi and bacteria that contribute to the fermentation of the tea, has anti-cancer properties and can "detox" the body. However, the cumulative scientific evidence, as well as studies conducted in the past decade, show that kombucha drinks' risks outweigh their benefits.
According to the American Nutrition Association, Kombucha is claimed to have originated in China thousands or hundreds of years ago – depending on the source – and has mystical powers to prolong life and improve health. Some even claim that drinking Kombucha can treat AIDS, diabetes, obesity, and many common diseases and disorders. However, none of these claims have been verified.
Examine.com, an independent research organization that reviews various nutritional topics and trends, recently evaluated Kombucha and its claims. Although it is rich in antioxidants, there is no evidence to compare it with catechins found in green tea or vitamin C, which have been proven to help reduce cancer risk. Examine.com pointed out that Kombucha has saccharolactone, a bioactive compound claimed to "exert anti-cancer effects in the colon." Even though studies in rats and in vitro have shown that it may have healing properties, saccharolactone is challenging to apply in human subjects for two reasons: No human studies have ever been done on saccharolactone either in Kombucha or by itself, and kombucha intake can increase the risk of death if the drink is prepared improperly. Cross-contamination during the production process can increase the growth of certain bacteria and fungi that may cause "cutaneous anthrax" and "acute renal failure," according to a few reported case studies. With the evidence available, Examine.com stated that there is no proven and significant benefit of drinking Kombucha, nor is it convenient as a health supplement, "considering there's hardly any evidence for its health effects, but plenty of evidence for the damage it can do."
Not all animal studies show that Kombucha compounds' benefits outweigh their risks. A survey on Kombucha's healing effects on lab rats conducted at Tehran University's Department of Pathology in Iran was published in 2013 in Diagnostic Pathology. Rats administered Kombucha fungus showed better wound healing than those given Nitrofurazone, a type of ointment, but the results and differences "were not significant."
Scott Gavura, BScPhm, MBA, who is a pharmacist and writer, pointed to Science-Based Medicine in a 2003 systematic review that was published in a Swiss journal
(Forsch Komplementarmed Klass Naturheilkd) that did not find any clinical trials or case series in which Kombucha had any hint of medical benefits. "Based on what's known about the active ingredients, there's no reason to expect it would offer any medicinal effects other than the consequence of low levels of alcohol or caffeine." Like Examine.com, Gavura listed documentation of toxicity and harm related to Kombucha consumption, including hepatitis and metabolic acidosis.
The Kombucha "mother."
Even though drinking Kombucha has risks that outweigh the "benefits," both Examine.com and Gavura agree that if people like the product's taste, drink it wisely. Examine.com suggested that consumers purchase Kombucha from "trustworthy producers with sanitary working conditions and properly trained staff" to minimize cross-contamination. Gavura said that drinking Kombucha "probably won't kill you." Considering the lack of documented health benefits, consuming it is no real benefit unless it is just for the taste. As with any food, Gavura suggested that people weigh the risks and benefits. In the case of Kombucha, it may not be a wise choice for some people.
Read more at http://guardianlv.com/2014/07/kombucha-studies-show-risks-outweigh-benefits/#6H3qSWJ38je65gvu.99
Kombucha: Myths vs. Truths
Posted on March 25, 2013
"Everything has beauty, but not everyone sees it." ~ Confucius
What is that thing?

It's a SCOBY (Symbiotic Culture of Bacteria and Yeast), a term coined by Kombucha enthusiast Len Porzio in the mid-1990′s. It may not look appetizing, but it creates a trendy fermented beverage for $4 a bottle in health food stores. Luckily, you can make it very inexpensively at home. You need 6 simple ingredients: a SCOBY like the one pictured above, tea, sugar, clean water, a warm place, and time. The final product contains a blend of beneficial bacteria and yeast (probiotics) and certain acids and enzymes that aid digestion, detoxify the body, and promote health. However, with popularity sometimes comes infamy, and several myths have cropped up surrounding Kombucha over the years. Let's separate the myths from the truths.
Kombucha History & Science
Kombucha has been around for thousands of years, is believed to have originated in China, traveled throughout Asia and Russia, and eventually became a health craze in the US over the past two decades. Legend has it that it was named after a Korean physician Kombu who healed the Japanese Emperor Inyko with the tea, and the tea was then named after him: "Kombu" + "cha" (which means tea.)
The science of fermentation is practiced in homes rather than laboratories, so it has an air of mystery. These living foods change from batch to batch, and since they can't be patented or highly controlled,  there's no real incentive for the science community to spend resources on research. Therefore, health claims tend to be anecdotal, and certain assumptions about the "science" behind the process get spread with no objective evidence to support those assumptions. We know fermented foods are powerful in their ability to keep a healthy body and restore balance to an unhealthy one. We don't know the fine details of how this occurs.
Well, Michael Roussin, a Kombucha lover, wanted to know what was in this drink that made him feel so good. With the help of a professional lab, he spent 18 months testing 1103 samples of Kombucha, from batches all over North America and parts of Europe, with different teas, sugars, temperatures, and brewing times, and he discovered some surprising things. The complete report of his research is for sale through his website.
Here are some highlights:
Busting the Myths
•    Although Kombucha is made with caffeinated tea, none remains by the end of the fermentation cycle. MYTH. Roussin found that the caffeine content doesn't reduce at all. This myth might have started because only 6-8 teabags are used to brew a gallon of Kombucha tea, half the strength of an average cup of tea. The good news is that Kombucha doesn't need caffeine to thrive. If you want to remove even more of the caffeine, pre-steep the tea bags for 30 seconds and throw that water away. Then steep these teabags again in fresh hot water for the kombucha brew. The majority of the caffeine is dispersed in the pre-steeping.
Update: You cannot decaffeinate tea at home. Lab testing shows this eliminates only a small amount of caffeine. If you can't have caffeine, buy tea decaffeinated by the CO2 method (a healthier choice compared to the more common chemical decaffeination.) Thanks to Mari in the comments below for busting the myth of pre-steeping tea to remove caffeine.MYTH. •    Although Kombucha is made with sugar, none remains by the end of the fermentation cycle. A little sugar will always remain, depending on how long the tea is fermented. Generally, people brew tea according to their taste. A 5-day brew is going to have a high quantity of sugar remaining. A 30-day brew will have very little remaining (yet still some). Most people brew the tea for 7-12 days when it has a tangy sour flavor with a sweetness remaining; on average, the amount of sugar at this point is 16 grams per 8 oz. cup. This is equal to 4 teaspoons of sugar. You could brew the full 30 days to minimize the sugar, but at that point, the drink is so sour people usually add juice to make it palatable. If you do this, you'll get 12-20 grams of sugar from the juice. This is why many people call it healthy soda pop. The "healthy" part comes from the high amount of probiotics and beneficial acids it contains, and rest assured, the sugar content is much lower than regular soda. You may feel tempted to make your Kombucha with less sugar or no sugar, but sugar is the food your SCOBY needs to create the probiotics and acids you seek. It will become malnourished and eventually die without it. If you want to know the sugar content of your homebrew, you can use sugar test strips.
Update: Silvia (in the comments below) did the math and noted that 16 grams per cup are the amount of sugar added when you begin the Kombucha brew, so how is it possible that it's still that concentrated at the 7-15 day mark? Here's why: In the first fermentation stage, the yeast uses the minerals from the tea to produce enzymes that separate sugar into glucose and fructose. At the 7-day mark, that's as far as the process has gone. The sugar is easier to digest but hasn't yet diminished in concentration. By the 15-day mark, it is just starting to eat/diminish the sugar content (3.3 teaspoons per cup remaining at that point.) The sour flavor comes from the acids forming, but that sweet tone is still the sugar unless you brew it for 30 days. A study done by Cornell University confirmed these results.
•    Kombucha is rich in B vitamins. MYTH. Although it does contain these vitamins, the amounts are so small they are almost immeasurable. The International Journal of Food Science and Technology confirmed this.
•    Kombucha is rich in glucuronic acid, a powerful liver detoxifier. MYTH. There is no glucuronic acid in Kombucha. Ironically, Roussin began his experiments intending to prove otherwise. He read a book by Harald Tietze in 1995, who said no reputable lab had ever found glucuronic acid in Kombucha, so Roussin hired a reputable lab to prove him wrong. When he confirmed its absence instead, he was curious about people's other assumptions about Kombucha, and his experiments continued. Roussin believes the glucuronic acid myth was born of research from the 1940s, where researchers tested the urine of people who drank Kombucha and found high levels and therefore assumed the Kombucha was providing it. Instead, Roussin's lab found that Kombucha contains a different acid synergist with glucuronic acid. Glucuronic acid is made naturally by the liver and works by binding to a toxic molecule and carrying it out of the body. The high levels of glucuronic acid in the urine could have been due to the other acids in Kombucha helping the glucuronic acid in the body do its job. So, Kombucha is detoxifying, but we continue to learn exactly how.
•    Kombucha contains hyaluronic acid and glucosamine, effectively relieving joint pain. MYTH. Kombucha contains neither of these compounds. However, it does seem to have a positive effect on the joints. Roussin's theory is that it contains the building blocks for these compounds.
•    Kombucha contains over 50 different kinds of probiotics, organic enzymes, amino acids, and vitamins. MYTH. Every batch of Kombucha is different. The only things every batch contains are (1) at least one beneficial yeast, (2) acetobacter (the beneficial bacteria in the SCOBY), (3) gluconic acid (a pH regulator) – note: this is not the same thing as glucuronic acid referenced above, and (4) acetic acid (an anti-microbial acid, which also stabilizes blood sugar). Most batches of Kombucha will also contain an analgesic (pain reliever), an anti-arthritic compound, an anti-spasmodic compound, a liver-protective compound, and several anti-bacterial compounds. The blend varies from batch to batch. See why this elixir can't be patented? It embodies change.
•    Kombucha can cure everything from arthritis to gout to HIV to cancer. MYTH. As Hannah Crum of Kombucha Kamp says, "Kombucha is not a panacea – it doesn't cure anything! It brings the body back into balance to heal itself naturally. That is how it can do so much." Results vary from person to person. Many say it helps their joint pain, keeps them from getting sick, gives them energy, aids their digestion, clears their sinuses, reduces their blood pressure, clears their eczema, alleviates their headaches, and the list goes on. Then other people say they enjoy the taste but don't notice any effect. The only way to know what it can do for you is to try it.
•    Kombucha is dangerous and has been linked to deaths. MYTH. This one is often repeated and usually starts with a sentence like this: "There is no scientific evidence that Kombucha promotes health, just anecdotal reports. However, it has been linked to both illness and death." (With never acknowledging that the last sentence is an anecdotal report, and there's no scientific evidence that Kombucha is harmful.) Let's clear up that report, though, because it's scary. Fermentation expert Sandor Ellix Katz sums it up nicely: "In 1995, the US Centers for Disease Control (CDC) publication Morbidity and Mortality Weekly Report ran a story headlined, 'Unexplained Severe Illness Possibly Associated with Consumption of Kombucha Tea,' with possibly being the operative word. In two separate incidents, weeks apart, two women in Iowa had very different unexplained acute health episodes. One of them died. Both drank Kombucha daily and made it from the same original SCOBY. The Iowa Department of Public Health immediately warned to stop drinking kombucha 'until the role of the tea in the two cases of illness has been evaluated fully.' But they could never explain how Kombucha may have been related to the illnesses, and 115 other people who drank Kombucha from the same mother without problems were identified. When the mothers and the Kombucha that possibly made the women sick were subjected to microbial analysis, 'no known human pathogens or toxin-producing organisms were identified.'"
•    Kombucha is an alcoholic drink. TRUE. However, it's a minimal amount, usually between .5 and 3%, depending on the length of fermentation. (Beer contains 4-6%.) Single fermentation home brews of Kombucha usually contain only .5% alcohol. If you do a second fermentation in a bottle to flavor it and increase the carbonation, the alcohol content will increase slightly. Store-bought brands were found to contain more because the product is still fermenting in the bottle, and a long time can pass between bottling and purchase. For this reason, Kombucha was temporarily pulled from store shelves in 2010 while the federal alcohol trade bureau tested numerous samples and developed guidelines for kombucha manufacturers. Now, all store-bought brands are supposed to have taken steps to prevent fermentation from continuing in the bottle. Sadly, this often means pasteurization, which limits the drink's benefits.
•    If you ferment more than one food or beverage (sauerkraut, kefir, Kombucha, etc.), you must keep them from each other for fear of cross-contamination: MYTH. Sandor Ellix Katz addressed this in his book, The Art of Fermentation: "While different cultures may subtly influence one another through the air over time, typically this is not an issue… Betty Stechmeyer, who co-founded a starter culture business, GEM cultures, with her late husband Gordon and spent 30 years growing and selling fermentation starters, reports that for all those years, she propagated several different sourdoughs, several different milk cultures, tempeh starters, and more, in one 12×12 foot kitchen. 'Pretty primitive and simple, eh?' She never experienced cross-contamination. I cannot guarantee that cross-contamination among cultures is impossible. Still, it is not a likely occurrence, and I encourage enthusiastic experimentalists to ferment to your heart's content without worry."
•    Kombucha can make you feel worse. TRUE. While most people feel benefits from drinking Kombucha, some symptoms worsen. There are a few potential reasons for this: (1) Healing Crisis: Dr. Natasha Campbell-McBride, author of the GAPS Diet, says: "Apart from good bacteria, a healthy body is populated by beneficial yeasts which normally protect the person from pathogenic (bad) yeasts, such as candida albicans. Kefir (and Kombucha) contain these beneficial yeasts (as well as the beneficial bacteria) which help to take pathogenic yeasts under control."  This is a good thing, but sometimes the body reacts to the mass die-off of harmful bacteria and yeast, temporarily worsening symptoms. This can last from a few days to a few weeks, but people's health improves dramatically when the symptoms pass. (2) Gluten Cross-Reaction: Update: Gluten Cross-Reaction has proven to be a myth. Thanks to reader Sarah for this new information. (3) Histamine or Yeast Intolerance: Fermented foods contain beneficial bacteria which improve most people's health, except those who are yeast or histamine intolerant. As with a healing crisis, negative symptoms from drinking Kombucha don't improve with time. So what do you do if you feel Kombucha makes you feel worse? First, lower the amount of Kombucha you are drinking and only increase it as your body can handle it without discomfort. If you are experiencing a healing crisis, lower doses should slow down the die-off reaction and alleviate your symptoms. If you continue to have discomfort at small doses, stop drinking it altogether and try again in 6 months. (Food intolerances often disappear as we heal.)
Mother Jones: Is Kombucha Good for You?
—By Maddie Oatman
"As an occasional kombucha drinker, I enjoy the strange, sour aftertaste of the trendy fermented beverage. But after spending as much as five bucks for a 16-ounce bottle of the stuff, I decided to see if I could successfully—and safely—brew my batch. I also wondered whether the claims about Kombucha's health-enhancing properties had merit.
Often mistaken for a mushroom, the culture used to make Kombucha is a collection of yeast and bacteria. After ten days of natural fermentation, the amalgam forms a thin pancake-looking colony called a SCOBY (symbiotic culture of bacteria and yeast) surrounded by a fizzy, vinegar-like tonic—the stuff you drink. Remnants of the living mass make their way into bottled Kombucha, which creeps some people out. "But really, it's no more frightful than when yogurt first reared its head in health stores across America in the 1970s," states one Whole Foods website. Kombucha has been consumed for thousands of years—some say it originated in Manchuria in 220 B.C.; others trace its roots to Russia—and enthusiasts prize the drink for its beneficial probiotics, organic acids, vitamins, and antioxidants.
Because the fermentation happens naturally, I needed no special equipment besides a one-gallon mason jar to get the project bubbling. Brad Koester, a local kombucha brewer who sells pickled beans and onions to San Francisco restaurants, presented me with my "mother," SCOBY. This gelatinous mass resembled a tiny jellyfish asleep in amniotic fluid. I brewed about a gallon of green tea, added eight tablespoons of sugar, and poured all the liquid that would fit into the gallon jar with the SCOBY, making sure to cover the top of the mason jar with a thin cloth to prevent fruit fly infestation.
Maybe because kombucha brewers refer to this mass as the "mother," I couldn't help feeling like I was caring for a pet. Would I kill my SCOBY if I shook it? Would my SCOBY wither and die in my chilly Victorian house? I voiced my anxieties to Brad, who sent me a text saying, "Patience, grasshopper." I could only wait and see if the "mother" would work her magic, and I'd have little control over the results.
This lack of control recently led to some problems among kombucha manufacturers and sellers. In June, Whole Foods voluntarily pulled all kombucha products from its shelves, citing concern that the alcohol levels had surpassed the legal limit of 0.5 percent. Because it kept fermenting in the bottle, some brands' products became more alcoholic—sometimes up to 3 percent alcohol—over time. Some kombucha manufacturers have since recalibrated their beverages so they won't re-ferment, and the tea is back on store shelves.
I don't know precisely how much alcohol will turn up in my homebrew, but unless I allow it to re-ferment, the possibility that it will get me drunk—or even buzzed—is remote. If mine registered at 0.6 percent alcohol, I would have to drink five 16-ounce bottles of Kombucha before reaching the effects of one can of Coors Light—which contains 4.2 percent alcohol.
Whether my homemade Kombucha can provide health benefits is a complicated question. Beverage manufacturers praise the elixir for "improving the liver, gall bladder, and digestive function" and " enhancing the body's normal toxin elimination process." But little scientific research has been conducted on the stuff, and these claims are mainly based on anecdotal evidence.
That the probiotics in Kombucha might aid digestion has certainly caught people's attention. GT's Synergy Kombucha, the leading brand on the market, claims its probiotic content includes S. boulardii and Lactobacillus, bacteria commonly found in yogurt. S. boulardii is a yeast, explained Boulder nutritionist and herbalist Matthew Becker. "It greatly affects normalizing the system, crowds out bad bacteria, and allows good bacteria to proliferate."
Believers also praise the drink for its array of organic acids. Becker maintains that the malic acid in Kombucha contains mildly detoxifying properties. Adam Goodman, a Santa Cruz brewer and owner of Kombucha Botanica, added that the drink's combination of acetic acid, gluconic acid, and succinic*acid "has a powerfully detoxifying effect." But while many kombucha makers boast about their brew's glucuronic acid—which may play a role in ridding the body of harmful chemicals—Goodman believes research that says none has ever been detected in the beverage. Among others, Stuart Tompson, director of Gaia Research Institute, continues to cite several studies that report that low glucuronic acid levels are found in Kombucha.
Overhyping the benefits of a beverage can lead producers into sticky legal situations. Millenium Products, makers of GT, currently faces a class action lawsuit, wherein plaintiff Gretchen Patch aims to "put an end to the deceptive, misleading, unfair, and unlawful labeling and advertising of GT" and claims she never would have bought the beverage if she had known its health benefits had not been scientifically proven. Worse, the lawsuit says, "serious health risks may be associated with the product."
And Patch is not the only one to voice concern about the risks involved in Kombucha. In 1995, two women who shared the same kombucha culture became seriously ill; one suffered a cardiac arrest and died. Another man was hospitalized in 2009 after possibly suffering lactic acidosis, a build-up of lactic acid in the bloodstream that can be life-threatening due to drinking Kombucha.
One potential risk of growing my own Kombucha is that even though the high acetic acid content would eat away any potentially harmful bacteria, dangerous molds could find their way into the mix. Cornell microbiologist Ramón Mira de Orduña raises concerns over the possibility that molds like penicillium and aspergillus could proliferate. The molds may produce mycotoxins, which are "fairly toxic and carcinogenic," warned Mira de Orduña. "If you do that at home, and you're not sure how to control that, that could be dangerous." The mold would be visible on the surface of the SCOBY, though, or might expel a funky odor, so keep an eye out for anything fuzzy that could decrease the chance of drinking cancer-causing agents.
The danger of these molds is much worse for those with already suppressed immune systems. So trying to cure illnesses like AIDS and cancer with lots of kombucha drinking, as was trendy in the '90s, could be a bad idea. But the risks involved still seem pretty low for healthy people who drink small quantities of Kombucha (4 ounces or so a few times a week).
But what about my friends' question: Will my Kombucha cure their hangovers? I guess the caffeine and the sugar in the drink might have something to do with any morning-after boost. Mira de Orduña doesn't even go that far. "Sure, the liquid might have some effect," he chuckled, "often when you have a hangover, you're dehydrated. If someone found something that officially worked against hangovers, they would've made a billion dollars by now."
Kombucha tea health Benefits and side effects
Feb 22, 2014, by Ray Sahelian, M.D. See a list of hundreds of health and nutrition topics.
Kombucha, popularly called kombucha mushroom, a combination of yeast species and acid-forming bacteria, was quite popular in the US in the mid to late 1990s but has since not been in the limelight. Some call it a kombucha mushroom, but technically it is a symbiosis of several yeast species and bacteria.
Benefit
There have not been any reliable human studies with kombucha tea published in recent years in the Western medical literature; therefore, at this point, it is challenging to report definitive proof of kombucha benefits. Rodents studies indicate it has antioxidant and immune influencing properties, ulcer-healing, liver protection, and anti-stress potential. It may have anti-bacterial activity. Other studies in rodents indicate that, compared to black tea, kombucha tea is a better inhibitor of alpha-amylase and lipase activities in the plasma and pancreas and a better suppressor of increased blood glucose levels could be of benefit to those with high blood sugar issues or who have diabetes. However, some human case studies, as listed below, raise concerns about possible risks and dangers.
J Med Food. 2014 Feb. Current evidence on physiological activity and expected health effects of Kombucha fermented beverage. This review aims to give an overview of the recent studies searching for experimental confirmation of the numerous KT health-promoting aspects cited previously. The literature data is analyzed in correspondence to the recent concepts of health protection requirements. Attention is given to the active compounds in kombucha tea, which are responsible for the particular effect and the mechanisms of their actions. It is shown that KT can efficiently act in health prophylaxis and recovery due to four main properties: detoxification, antioxidation, energizing potencies, and promotion of depressed immunity. Recent experimental studies on the consumption of KT suggest that it is suitable for prevention against broad-spectrum metabolic and infective disorders. This makes KT attractive as a fermented functional beverage for health prophylaxis.
Kombucha side effects, caution, toxicity, risks, harm, danger
Kombucha side effects have been reported. A rare case of myositis has been mentioned with drinking. Other possible problems include harm to the liver and lactic acidosis. These harmful effects are rare compared to the number of people who drink this tea.
A case of kombucha tea toxicity.
J Intensive Care Med. 2009. Division of Pulmonary/Critical Care Medicine, Cedars-Sinai Medical Center. 
Kombucha mushroom tea is touted to have medicinal properties. Here, we present a case of hyperthermia, lactic acidosis, and acute renal failure within 15 hours of Kombucha tea ingestion. A 22-year-old male, newly diagnosed with HIV, became short of breath and febrile to 103 F within twelve hours of Kombucha tea ingestion. He became combative and confused, requiring sedation and intubation for airway control. Laboratories revealed a lactate of 12.9 mmol/L and serum creatinine of 2.1 mg/dL. Kombucha tea is black tea fermented in a yeast-bacteria medium. Several case reports exist of severe, sometimes fatal, hepatic dysfunction and lactic acidosis near ingestion. While Kombucha tea is considered a healthy elixir, the limited available evidence raises considerable concern that it may pose serious health risks.
A case of anti-Jo1 myositis with pleural effusions and pericardial tamponade developing after exposure to a fermented Kombucha beverage.
Clin Rheumatol. 2004. Division of Rheumatology, Thomas Jefferson University Hospital, Philadelphia, PA 
The pathogenesis of the idiopathic inflammatory myopathies has been postulated to be an environmental trigger causing the expression of the disease in a genetically predisposed patient. We report a case of anti-Jo1 antibody-positive myositis associated with pleural effusions, pericardial effusion with tamponade, and 'mechanic's hands,' probably related to fermented Kombucha beverages. Kombucha 'mushroom,' a symbiosis of yeast and bacteria, is postulated to trigger our patient's disease owing to the proximity of his symptoms to the consumption of the beverage.
Can a person experience an onset of psychosis from ingesting kombucha tea? A friend began drinking this tea and, within two weeks, began having psychosis-like behavior.
Perhaps this can occur in rare cases, but one has to rule out other supplements, medications, drugs, etc., that the person may have been ingesting.
Kombucha Tea Side Effects
Last Updated: Mar 17, 2014 | By Ann Bartkowski
Overview
Kombucha tea is made by fermenting several species of yeasts and bacteria along with sugar in black tea. The colony of yeast and bacteria is called a kombucha mushroom, although it is not actually a mushroom. The resulting tea has been promoted as a panacea for serious conditions such as cancer, autoimmune disorders, and aging; however, there is no scientific evidence for these claims. There is, however, evidence of serious side effects of kombucha tea, including death.
Acidosis
There have been many reports of severe acidosis, which is a life-threatening condition caused by an abnormally high amount of acid in the body, in people who had recently consumed kombucha tea. In 1995, the Centers for Disease Control and Prevention reported that two women were hospitalized with severe acidosis after drinking kombucha tea that they had made daily for two months. One of the women died, and the other's heart stopped, but she recovered. A 22-year-old HIV-positive male presented with lactic acidosis and died within 15 hours of drinking Kombucha, as reported in a 2009 "Journal of Intensive Care Medicine."
Liver Damage
Liver damage is another side effect associated with drinking Kombucha. Although complete liver failure resulting in death is rare, it is not impossible. The 22-year-old who developed acidosis and died shortly after consuming kombucha tea also went into liver failure. More commonly, according to the American Cancer Society, liver damage occurs in kombucha drinkers as jaundice. As jaundice sets in, your skin starts to turn yellow, often followed by your eyes and nails.
Kombucha Danger
By Carrie Grosvenor
Kombucha is an ancient Chinese remedy used to support overall wellness and longevity. The substance is usually consumed as tea and has gained popularity in the Western world. However, Kombucha may not be the benign substance many believe it is.
Kombucha Tea Cautions
Kombucha dangers arise in various forms, from allergic reactions to contamination. Since many batches of kombucha tea are brewed at home, the risks associated with this drink can be pretty high.
According to the American Cancer Society, Kombucha tea is made by fermenting sweetened black tea with the "Kombucha mushroom," which is not a mushroom but a mushroom-shaped culture of yeast and bacteria that forms while the tea is fermenting. Many variables can occur when fermenting and consuming tea with potentially dangerous results.
•    Strains of molds, bacteria, and fungi can develop, which may cause serious illness. WebMD states on its website that 20 people in Iran developed anthrax infections after drinking kombucha tea. They caution that the tea can significantly threaten people with HIV or compromised immune systems.
•    The Centers for Disease Control (CDC) provided a report that lists case studies of individuals reacting badly to kombucha tea. In 1995, unexplained illnesses, including one death, occurred in two people who drank kombucha tea for two months.
•    Overproduction of yeast can occur in the tea due to fermenting at too high a temperature, using a kombucha culture that contains a high yeast-to-bacteria ratio, or allowing the culture to remain dormant too long before use. WebMD lists yeast infections as a possible side effect of kombucha tea.
•    Dr. Andrew Weil says NO to Kombucha. He states on his website that incidents of lactic acidosis (a condition where the blood becomes acidic due to too much lactic acid in the body), kidney failure, and severe liver dysfunction have been reported due to kombucha tea consumption. He also mentions other adverse reactions, including:
◦    Jaundice
◦    Head and neck pain
◦    Nausea
◦    Vomiting
◦    Headaches
•    Kombucha tea contains a high acidity level, which may cause problems for people with stomach ulcers, heartburn, or any sensitivity to acidic foods. Although some people claim that the 'good bacteria' found in Kombucha can help those conditions, others find it aggravates them.
Bottom line? Possible risks and benefits associated with Kombucha Tea.
So, what possible risks and benefits are associated with Kombucha Tea? After reviewing over 100 articles and published studies, there is no consensus on Kombucha's proposed health benefits. This is especially significant as many of the benefits individuals seek are better, more reliable, and more safely served with other delivery systems. Quality probiotics, enzymes, and vitamins are now easily and commonly available in certified laboratory-grade products. Kombucha's effects are mainly attributed to Alcohol and caffeine, and sugar, which are always present. Of genuine concern are the high acidity and the Kombucha's supporting acidosis, which is now considered a genuine health concern. Some of the lighter side effects may be due to the acidifying properties. Lastly, there is a risk of cross-contamination with dangerous molds and bacteria, such as penicillin strains which could be very severe, especially if the individual is health compromised. Proponents uniformly overstate Kombucha's purported antibiotic-resistant qualities.
There are far more effective and reliable natural alternatives to conventional antibiotics with little or no risk of exacerbating existing conditions, harmful interactions, and any risks. However, it may not be overtly harmful to healthy individuals drinking absolutely and correctly prepared, on a limited basis, no more than 2 to 3 times a week. It should be avoided when immune compromise is suspected. In answer to my first question, whether I feel SomaVeda® Thai Yoga Practitioners should use or recommend to themselves or clients as a remedy? My overall vote is a NO as there are more readily available low to no-risk alternatives for the same benefits—more Hype than help. Maybe in a "There is nothing else available" type of scenario. In class, we also teach several proven antibiotics or infectious disease treatment alternatives to all SomaVeda® students.  As to whether we recommend Kombucha for use during our SomaVeda® programs? Again the answer is a no on using or making during programs… First, we have a "NO ALCOHOL" policy for the campus, and since most Kombucha products have varying amounts of alcohol, it would not be suitable. Lastly, The risk is unpredictable from person to person, and any use of Kombucha should be closely monitored for possible risk factors.
Learn more with SomaVeda® Thai Yoga Videos!
Interested in a college degree in Natural Medicine? Visit the SomaVeda College of Natural Medicine for more info.
SomaVeda Integrated Traditional Therapies®, SomaVeda® is a Federally Registered Trademark/ Servicemark and proprietary Intellectual Property, All World Rights Reserved.