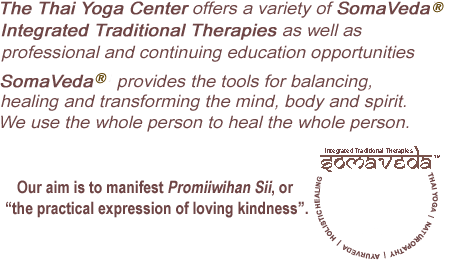 Rules Procedures and Guidelines
The SCNM: Thai Yoga Center, located at NAIC Sanctuary, is a religious and volunteer organization operated by the Priory of Saving Grace and the Native American Indigenous Church Inc. (NAIC). All work, including teaching of classes and programs and house/dorm related activities, is done by volunteers and students. The RPG's are to help you to understand what your responsibilities are as a student and guest at the TYC. Every student is responsible to read and to be generally familiar with what is expected of them for their training and stay.
Personal responsibility:
Attitude and general fitness: You are responsible for your own health, happiness and general welfare at all times. The staff at SCNM: TYC is here to assist you in having the best educational experience possible. However, they are volunteers and cannot be attentive to your needs on a moment by moment basis. We want to encourage all participants to work at the highest level to co-create and to facilitate a harmonious environment to practice in. If you are unhappy for some reason, take charge, handle it yourself in a good way or seek counseling or assistance from the staff or other volunteers. We feel that all work is in essence work on one's self. SCNM: TYC is dedicated to helping you to learn and make progress in virtually every area of life, but, we need your participation to be effective in this. Additionally, please see our Code of Ethics for NAIC Thai Practitioners…
Karma Yoga/ Householder:
General Areas:
1. Clean up after yourself. Leave all areas clean, or cleaner than you found them.
2. Return all items (books, magazines, drinking cups etc.) in clean condition to where they belong, after each use.
3. Keep all personal and study items in your sleeping area when not in use.
4. Smoking is permitted outside of buildings only. (Smokers MUST clean up after themselves! No Butts!)
5. When possible, leave shoes outside on the porches.
6. Park only allowed in designated areas. If not sure… ask please. Please follow staff directions for student parking. Improperly parked vehicles will be removed from property.
Dorm or Sleeping Area:
1. Keep your area neat and orderly.
2. Make bed, put away clothing, remove trash before class each day.
3. Sweep/vacuum your room when needed.
4. Extra clean towels are in the student dorm closet. Remove soiled towels to the laundry room.
5. No open food containers or eating is permitted in dorm/bunk house areas. Use dining room or porches for snacking.
6. If sleeping in the dorm annex, personal items and sleeping area must be cleaned up an hour before scheduled class time.
7. Respect the privacy of other students by knocking on closed doors and giving each other space to change clothes, etc.
8. Dorms are gender specific… please be considerate and do not intrude on opposite gender dorm.
Bathrooms:
1. Do not leave personal items and towels in bathroom.
2. We are "Water Protectors", Please conserve our water!
2. Leave Clean! Rinse sink and tub/ shower after use.
3. In consideration of others, keep bathroom time to a minimum and showers as short as possible, no more than 15 minutes.
4. Hang wet items up to dry on the hooks provided.
5. Please note that there are open showers in the outdoor bathhouse and nudity is allowed. Be respectful!
Classroom:
1. Set up is always one half hour before scheduled class time.
2. No open containers or food.
3. Please remove shoes.
4. Keep all personal items (notebooks, pens, water bottles, etc..) off to the side and out of the way. Put away all items not needed for class. (That also means only items actually being used should be in classroom. If not sure, ask.)
Kitchen and Meals:
1. All TYC guests are expected to help with meal preparation and cleanup. (See householder task list for cleaning procedure.)
2. Mealtime is considered complete when dining area and kitchens are clean and restored to proper order.
3. Personal items may not be stored in the TYC refrigerator without special prior arrangement due to dietary restrictions.
Quiet Time:
1. Lights out at 11pm. This includes the outdoor kitchen!
2. Any other quiet time activity (ie: meditation, reading) is permissible in main areas until 12pm.
3. No overhead lights in sleeping areas during quiet time- use a flashlight (that means to be sure to bring one!)
4. In public areas, TV or radios must be turned to low and talking is to be at a minimum.
Additional Student Amenities:
Phone and Internet usage: We know that it is sometimes necessary to communicate with the outside world while at SCNM: TYC. TYC is a professional facility and phone lines are essentially dedicated to this purpose. Please either avoid tying up the phone lines or keep personal calls and internet usage to a minimum. No cell phones are allowed in the classroom. No cell phones are to be used in sleeping quarters after lights out. Please be courteous when making calls in main areas!
Long Distance Calls: Students must have a calling card to make long distance calls from the school. There is a 20 minute time limit on all personal calls from the house phone.
Internet Usage: Bring your own laptop. There is a usage fee to access local wireless network of $70.00 per month per person, payable in advance. Each person using our wireless connection will owe the fee on an individual basis. This is not a multi-user agreement. Internet is not available during scheduled class times or after 10pm without expressed permission. Internet usage is restricted to designated areas only and is prohibited at all times in classroom, dorms, and other sleeping quarters. Misuse or violation of this policy will terminate access without recourse or refund of any kind. No refunds for unused access. Please notify the school if you have a personal WIFI connection that you will be using. By allowing other students to use your computer/ phone/ etc. you assume all responsibility for any damages that may result.
Personal Laundry: The school provides at a modest fee student laundry access. If this is insufficient for your needs or schedule, there is a commercial laundry with washing machines and dryers located near the school.
General Classroom: Students are responsible for making sure the classroom is ready and in order before and after each class. Vacuum each morning before setting up mats or before the morning documentary. Clean-up after class includes neatly folding and storing mats, sheets, pillows and other materials. Practice is permissible until 10pm unless otherwise noted, however, the room must be restored after practice.
Property Related:
No littering! SCNM: TYC believes and enforces nature conservancy and we support the process of restoring the land to its pristine and natural state. When walking on or off campus please collect any trash you may encounter on the way! Please park in designated areas only. No cars allowed in camping areas!
Karma Yoga/ Community Service/ Class Requirements:
Our educational programs are both traditional and apprentice based. This means that we require effort in support of the class, facilities, and ground maintenance as a vital and necessary part of every class.
"Chop wood, carry water" is not just a metaphor! At the SCNM: TYC we require that everyone participate in helping to maintain the school. The community service and karma yoga are requirements for completion of all programs. Karma yoga is a requirement of every traditional yoga school! It must be completed like any other class assignments and may not be missed or excused without prior permission of the instructor. Karma yoga is not the work that you want to do, but it is the work and sweat equity necessary to build and make a living community efficient. Our effort is a real investment and acknowledgement for the privilege of learning and training in anything of real value. The money your pay for classes/housing etc. is for "overhead," it is different from the effort of karma yoga. Your sweat and your effort is the coin for spirit and energy based exchange. Your uncomfortable-ness is a form of voluntary suffering that generates particular types of energy and emotional states which support real work. Karma yoga is about balancing the machine and balancing all of our centers…not just the parts of us who want truth served on a silver platter!
Please note: The basic requirement is a minimum of 1 hour of Karma yoga/ service per each full class day, or as indicated in the curriculum for that particular program. There are no exceptions unless arranged in writing previous to participation. The penalty for missed or unexcused incomplete is 4 CEU credit hours per missed hour (4/1). Each individual class has a minimum amount of hours necessary for graduation. If the student falls below this minimum, the hours must be completed before any certificate will be given. Participating in Karma yoga makes it possible to run, build and maintain a school and at the same time keep the cost of programs and housing reasonable and affordable. Karma yoga is also how we are able to provide you with free or partial scholarships!
Please note: All who receive seminary tuition scholarship reductions or discounts are required to participate in Karma Yoga as part of daily class and life at TYC. If you do not wish to join us in this important daily practice you are agreeing to pay 100% of the full tuition before receiving any certification from TYC. The participant further agrees that no certificates, certification or diploma of any kind will be issued until all requirements including course work, home work, financial and Karma yoga work is completed. Understanding and acceptance of this policy is a pre-condition to being allowed to participate in any of our programs.
The only exceptions to the above will be for true medical conditions. Alternative requirements will be assigned.
Regarding nudity, partial nudity and sex at TYC:
Our Yoga, Ayurveda and Natural Medicine curriculum is a science of balancing the whole person, mind, body and spirit. We foster an appreciation of the entire body and practice body awareness and acceptance in a wholesome and blessed way. All programs are for students 18 and over and are suitable for healthy adults. Some activities and course work like Ayurveda Panchakarma use oils, water, and herbs that are applied directly to the skin and involve various levels of dress and undress. Nudity is NOT required in any NAIC: SCNM program, but if are uncomfortable with the human body/ nudity than you may not be comfortable with some important aspects of our program and may want to reconsider your enrollment. Additionally, during clinical, medical and counseling courses human sexuality, male and female anatomy, intimacy, sexual function and dysfunction may be frankly discussed and covered in great detail as it relates to yoga practice, mental, spiritual, emotional, physical health and well-being. Our curriculum also includes course work on breath, Chakras, Prana, Kundalini and energy development ideas and techniques. We strive to foster an atmosphere of open and safe exploration of all issues relating to intimacy, personal well-being, and sexual identity because all these things affect our mental, emotional and physical health.
By registering and/ or participating in any of our programs you certify that you are over the age of 18 and agree to receiving education and information that pertains to potentially sensitive issues including human sexuality. The student further agrees to hold blameless all staff at NAIC/ SCNM: TYC from all injuries either real or imagined resulting from participation in these programs and related activities whether formally part of the program or not.
Please note! Better than good behavior is expected at all times. Any violent, abusive or improper behavior may result in immediate dismissal with out recourse or refund. This is a zero tolerance issue and no warnings will be given. Acceptance of the non-violent, no abuse behavior policy is a precondition to training at the SCNM: Thai Yoga Center. Acceptance of Student Agreement and Consent form, all current RPG's, APM Membership is a precondition to training in any of our programs.
Federal Trademark Notice: All NAIC/ SCNM: Thai Yoga Center Certificate programs are private and proprietary. Materials are exclusive intellectual property of the College and or Anthony B. James or both and as such are subject to use restrictions and conditions. SomaVeda®, SomaVeda Integrated Traditional Therapies®, SomaVeda® Thai Yoga and other uses are Federally Registered Trademarks.
Click here for full Notice and details on SomaVeda® Federal Trademark!