Sacred Eating Course: Food and Nutrition Issues, The Good, Bad, and the Ugly:
Nutrition for the prevention and treatment of disease is the most significant issue the patient can influence. How do food-eating habits relate to your health and wellness? What is the basis for nutritional well-being? Are there direct connections between the type, quality, kind, and sources of the foods we eat and the chronic patterns of ill health and disease experienced by so many? What are the direct links between the foods we eat and the leading causes of death Cancer, Heart Disease, and Diabetes? How food production affects the environment. Ethical issues in food production.
The Nutrition Counselor Certification program includes different protocols and effective eating strategies:
Biblical and Monastic Medicine Model: (SMOKH- Dr. Charles McWilliams Clinical Protocols) Bible Based
Gerson Clinical Protocol
Hippocrates Institute Nutritional Protocol
Eating and Health: Why prefer a mostly vegetarian diet for disease?
SomaVeda College of Natural Medicine: SomaVeda® NHS: NDCC™ (Native American Healthcare Specialist: Certified Native Diabetes Care Counselor™ )
Traditional and Indigenous Native American and Aboriginal-based dietary guidelines (Inter-tribal/ NAIC)
Indigenous Ayurveda (Dosha Balancing)
Specific recommendations based on the students attending the course and their particular health issues as case studies.
The benefits of a plant-based diet contrast with the help of a KETO-based eating strategy. Dangers and issues about Genetically Modified and or Genetically Engineered foods. Dietary problems relating to allergies. What is a rotation diet? What are the relationships between diet and mental/ emotional health? What is the role of additives and chemicals in the food supply? What are the common side effects and possible disease outcomes from eating foods manufactured or treated with harmful chemicals, pesticides, or both? Who profits from producing and distributing "Franken Foods"? What is the role of a poor or contaminated diet in health care? How can a healthy diet be an asset in designing SomaVeda® Thai Yoga Religious Therapeutic programs?
As a Certified Food Over Medicine Instructor: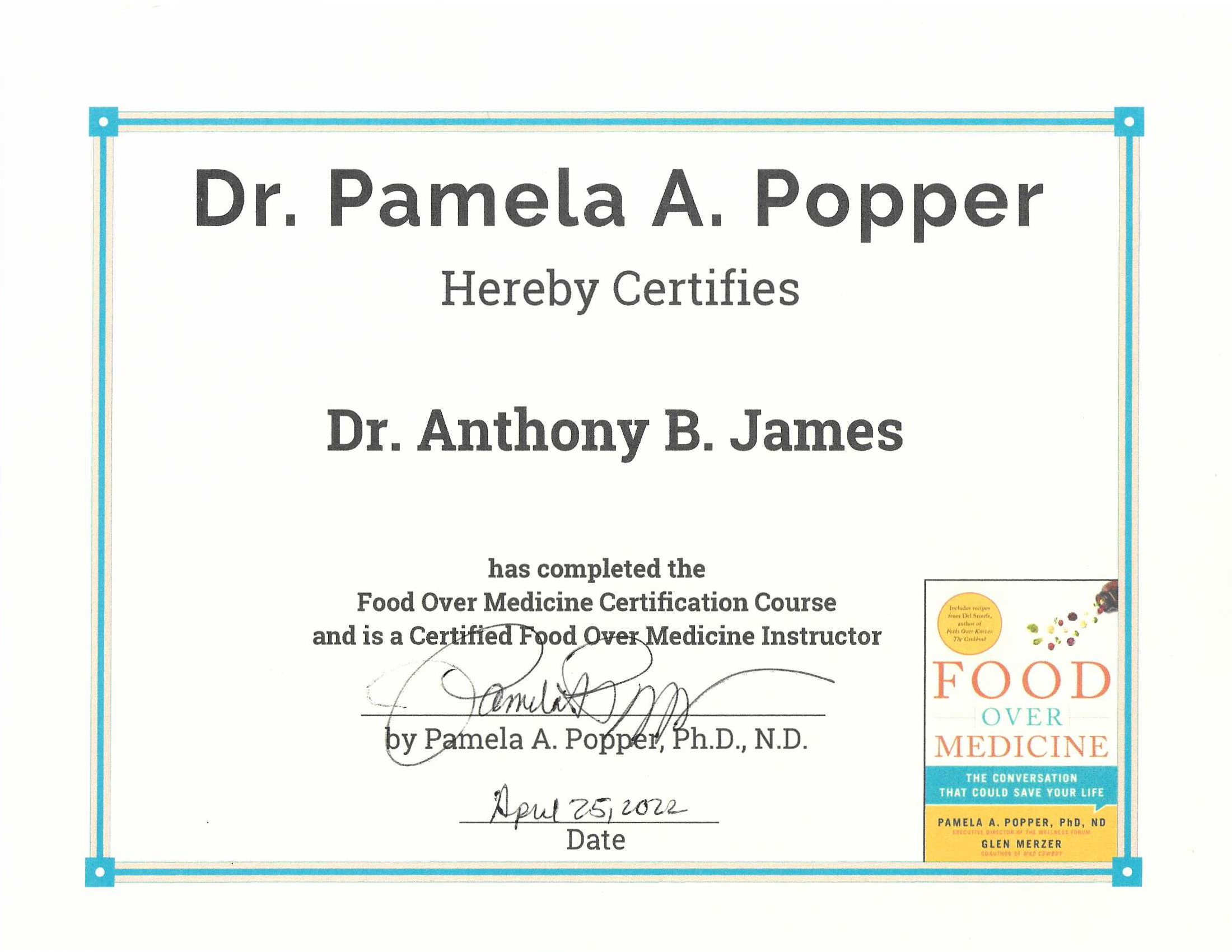 We are proud to integrate the Wellness Health Forums "Food over Medicine" program we integrate the FOM certificate training into the SomaVeda® Sacred Nutrition Certification at no extra expense to student practitioners.