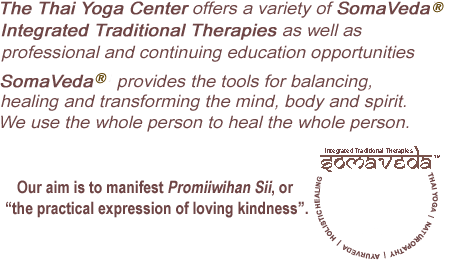 SomaVeda Integrated Traditional Therapies®: SomaVeda® Bolster Magick™ Thai Yoga
SomaVeda® Bolster Magick™ is a new and innovative approach to SomaVeda® Thai Restorative Yoga practice. It enhances and add a dynamic dimension of depth, communication and communication between the the practitioner and the client. The method uses a conventional Restorative Yoga Bolster and integrating with the unique SomaVeda® Thai Yoga Vinyasa, Flows and Techniques increase specificity and variety of applications.
Basic approaches are taught for all five traditional SomaVeda® Attitudes emphasized in the SomaVeda® Therapeutic Day Program including Supine, Side Lying, Prone, Abdominal and Seated positions. Over 100 unique positions are included in the amazing class.
Students are taught the single and double Bolster Magic techniques and flows and well as solo and multi-therapists variations.
The SomaVeda® Bolster Magick™ Basic program is offered at no additional cost to SomaVeda® ALC,  and above students.
Native American Indigenous Church Inc. (NAIC) is an NCBTMB Continuing Education Approved Provider
Contact hours: 8 CE hours (Included in the 200 Hour Ayurveda Lifestyle Counselor (ALC) Intermediate Certification Program.
Under our program SomaVeda® Thai Yoga Bolster Magic and Thai Yoga Massage is legal to practice in all 50 states and requires no specific licensing! NAIC is currently the only program for Thai Yoga Massage practice to be able to guarantee you a legal right to practice! Read this Article for more details.
Find information on the SomaVeda Certified Thai Yoga Practitioner Program!
Contact NAIC for Registration and Tuition Scholarships
SomaVeda Integrated Traditional Therapies®, SomaVeda®  are a Federally Registered Trademark/ Servicemark and proprietary Intellectual Property, All World Rights Reserved.