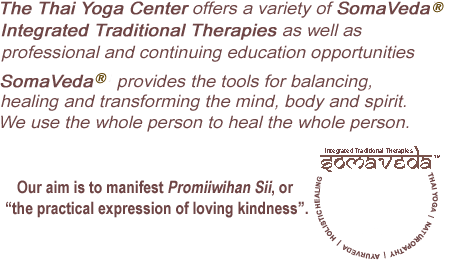 SomaVeda® Bio-Tapp™ Emotional Liberation Technique
B.E.T™ (Bio-Neuro-Harmonics™ Emotional Liberation Technique: Touch, Balance and Attunement Technique.) Level One. SomaVeda® Bio-Tapp/ BET™ is a new paradigm, a bio-energetic technology based on the research, development and exploration of Aachan James over the past 30 years. He has developed an elegant, sophisticated and incredibly simple method of releasing pain, reducing and or eliminating the harmful effects of negative emotions, stress, anxieties and any trauma including Karmic and past life related issues. It is now possible to eliminate suffering in minutes rather than hours, months and years! New levels: Bi-Tapp™ Intro, Bi-Tapp™ Level One, Bio_Tapp™ Level Two, Bio-Tapp™ Level Three, Bio-Tapp™ Masters Apprentice Program and Bio-Tapp™ Teacher Certification Program. This program is currently included as a module for our Certified Thai Practitioner (CTP), Certified Thai Teacher (TCP), Associate of Sacred Arts Degree in Natural Health and Doctor of Sacred Natural Medicine Ayurveda (DSNMA/ ND) programs .
Required Textbook: The SomaVeda® Bio-Tapp/ BET Manual
SomaVeda Integrated Traditional Therapies®, SomaVeda®  are a Federally Registered Trademark/ Servicemark and proprietary Intellectual Property, All World Rights Reserved.